BEST vol 7
BEST VOL 7
April 27, 2019 TALLINN
Event information
Venue: Radisson Blu Sky Hotel Conference Centre, Tallinn (Rävala Puiestee 3, Tallinn 10143, Estonia)
Parking: The Rävala Parking House (Rävala pst 5, Tallinn). The price is 8 EUR for a car. Payment at the hotel. 8 EUR 8 is a discount for the conference guest and up to 24 hours. You can drive out 1 time.
For the accommodation client the parking is available for 20 EUR, and hotel check-in will instruct how to park the garage.
Date: April 27, 2019
Organised by Estonian Society of Ophthalmic Surgeons
Dr. Artur Klett – artur.klett@itk.ee
Dr. Toomas Sepp – toomas.sepp@itk.ee
Presentations
Please send your presentation title with presenter name to  Artur Klett – artur.klett@itk.ee
Submission deadline: April 1, 2019
Registration and fee information
Information and registration: http://registration.amarela.ee/regform/ & best@amarela.ee
Main topic: "Trauma".
Preferred are presentations /case reports NO longer than 5 minutes, suitable for "rapid fire" scientific session.
Detailed information about the program will be available on the website www.esks.ee after 1. April.
Registration fees:
| | | | | |
| --- | --- | --- | --- | --- |
| | Until March 31, 2019 | Until April 14, 2019 (extension) | From April 15, 2019 | April 27, 2019 |
| Regular Fee | 100 € | 100 € | 150 € | |
| Student/Resident | 50 € | 50 € | 100 € | |
| Onsite | | | | 200 €  |
| Gala Dinner | 50 € | 50 € | 75 € | (cash only, ATMs nearby) |
Cancellation terms
1.All changes and cancellations must be submitted in writing to the meeting secretariat: best@amarela.ee
Meeting secretariat will confirm the cancellation in writing.
2.Registration fees will be refunded in case the cancellation is made on or before April 1, 2019.
3.There will be no refund for cancellation made after April 1, 2019.
4.In all cases, payment-handling costs will be deducted from the amount of refund. All refunds will be processed after the meeting.
Preliminary Program
10.00-11.00 Registration, welcome coffee break with the exhibition
Introduction to meeting: Toomas Sepp, Artur Klett
Session I 11.00- 13.30
Management of ocular trauma
  1. The basics of suturing the eyewall wound, Prof. F.Kuhn
  2. Case reports
  3. The timing of intraocular reconstruction of the severely injured eye , Prof. F.Kuhn
13.30-14.30 Lunch break with the exhibition
Session II 14.30-17.15 (Coffee break 15.30-15.45)
New Technologies and challenges in Ocular Surgery
  1. Videos of challenging cases: What, how, and why, Prof. F.Kuhn
  2. Case Reports
  Closing remarks
19.00-24.00 Dinner with Music and Dance
The organisers reserve the right to substitute or modify the program at any time.
Gold

Silver

Fox Vision

Bronze

Supporter
Contacts
Organised by Estonian Society of Ophthalmic Surgeons
Dr. Artur Klett – artur.klett@itk.ee
Dr. Toomas Sepp – toomas.sepp@itk.ee
Organising secretariat:
Amarela Conference Services
Address: Asula 4c Tallinn 11312 Estonia
Phone: +372 5645 7815
E-mail: best@amarela.ee
www.esks.ee
Accommodation
1. Radisson Blu Sky Hotel (Rävala Puiestee 3, Tallinn Estonia)
Standard room 115€ (with breakfast, wifi, vat)
Booking->
secret word "BEST", e-mail piret.oun@radissonblu.com

2. Original Sokos Hotel Viru (Viru väljak 4, Tallinn Estonia)
Standard Class Single 95€ / Double 100€ (with Original breakfast, free entrance to Café Amigo nightclub (except special events and Sundays/Mondays), free WiFi and all local taxes)
Booking->
Rates available for accommodation 26th-28th of April 2019
The special rate is bookable until 23th of March 2019
To get special prices, please book the room from Sokos Hotels official web page www.sokoshotels.fi using the reservation code BESTVOL7 (enter the code to "Reservation code" field).
Don´t forget to enter Tallinn as location and Original Sokos Hotel Viru as hotel.
If any problems, please contact Sokos Hotels Tallinn sales center for help (+3726809300; viru.reservation@sok.fi)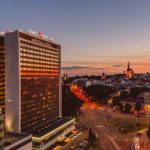 General information about Estonia
Time zone
Estonia is in the Eastern European Time Zone (EET): GMT +2 hours.
Climate
The April weather can be windy and changeable with possible rainfall. Therefore, we encourage the participants to check the latest weather forecast, dress appropriately and take some warmer clothes with you. Please see the latest weather forecast at http://www.weather.ee.
Currency
The local currency since 2011 is EURO.
Credit Cards
Credit cards such as Visa, MasterCard/Eurocard, Diner's Club and American Express etc. are accepted in most of the major hotels, restaurants and shops, but it would be wise to confirm this before ordering anything. Most banks will give cash advances on credit cards supported by a valid passport. Check with the credit card company for further details before travelling.
Phone calls
Calls to Estonia: the country code for Estonia is +372
Dial +372, then the area code and the subscriber's number
Calls from Estonia: Dial 00 + the country code + area code + the subscriber's number
Wireless Internet
Public Wi-Fi access points have been set up all over Estonia. There is free Wi-Fi access in all selected hotels and the meeting venue.
Mobile Internet
All mobile operators offer mobile internet 4G networks all over Estonia. Mobile internet speeds and connection stability may vary outside of Tallinn. For information about roaming prices contact your own mobile operator.
Smoking
Smoking is forbidden by law in public transportation and in public buildings. Smoking is not permitted inside the meeting building.
Taxi
Taxis are indicated by the word "TAKSO" marked on the top. It is compulsory for them to use a taximeter that can also give a receipt.
Tipping
Tipping is optional, 10% is customary in taxis, restaurants and bars.
Electricity
The electricity supply in Estonia is 220 volts AC, 50 Hz. European-style 2-pin plugs are in use.
Metric System
Estonia uses the metric system of weights and measures. Temperatures are given in degrees Celsius; distances and speed limits are indicated in kilometers; dimensions in meters and centimeters; volume in liters and milliliters; weights in kilograms and grams.
Insurance
It is recommended that delegates arrange an appropriate travel and health insurance prior to travelling.